It is worth mentioning that the slogan of the Tiananmen Gate Tower in Beijing, the capital of China.
PC light diffuser for the slogan:Long live the people's republic of China.The technicians have been commissioned by multiple color ratios to produce high-quality milky light diffusion sheet of the government, and the finished products have been well received.
The success of this project is first attributed to the excellent sales staff of our company, who have a deep understanding of the product and are 100% enthusiastic about the customers. No matter when the customer asks the question, sales can give a satisfactory answer as soon as possible, because SINHAI has more than 6 years of sales experience in its business.
Then there is our technical team. Each technician has 5-10 years of start-up experience and knows the occurrence of various problems, so that problems such as uneven color and insufficient light transmittance will not occur in the process of producing panels for customers.
After various comparisons and experiments, the technical staff's production samples of ingredients produced the big characters of Tiananmen Gate Tower today.
Baoding Xinhai Plastic Sheet Factory,an ISO 9001,SGS certificated,specialized in develop and sales of polycarbonate (lexan,PC)hollow solid corrugated sheet and relative accessories.Since the establishment of the factory in 2001,we have established mature sales and agency network.Our polycarbonate sheets run in mare than 100 countries including USA,Peru,Australia,Colombia,Japan,Sri Lanka,France,Spain,Philippines,UK,Canada,Italy.

Main Products:Twin Wall Polycarbonate Sheet,Multiwall Polycarbonate Sheet,Honeycomb Polycarbonate Sheet,Solid Polycarbonate Sheet,Frosted Polycarbonate Sheet,Embossed Polycarbonate Sheet,Corrugated Polycarbonate,PC & Aluminum Profiles etc.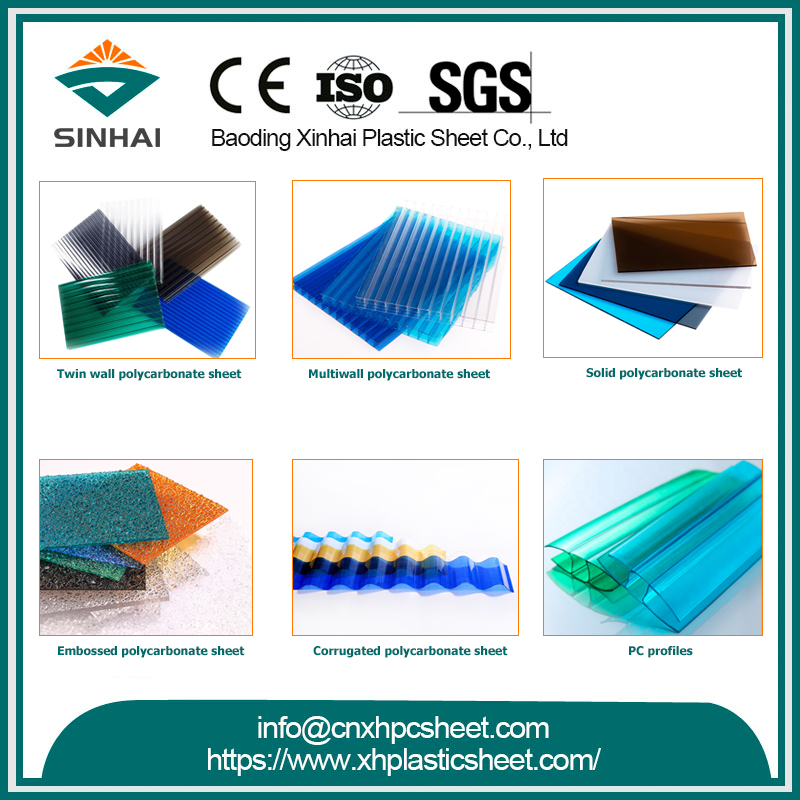 If you are interested in polycarbonate material sheet, you can contact us at any time, regardless of color, size or special requirements, we can meet your needs. And we have been focusing on the production of polycarbonate sheets for 20 years, with absolute quality assurance.
Email:info@cnxhpcsheet.com
Factory Address:Lotus area,Baoding City,Hebei Province,China
---
Post time: Jun-11-2021