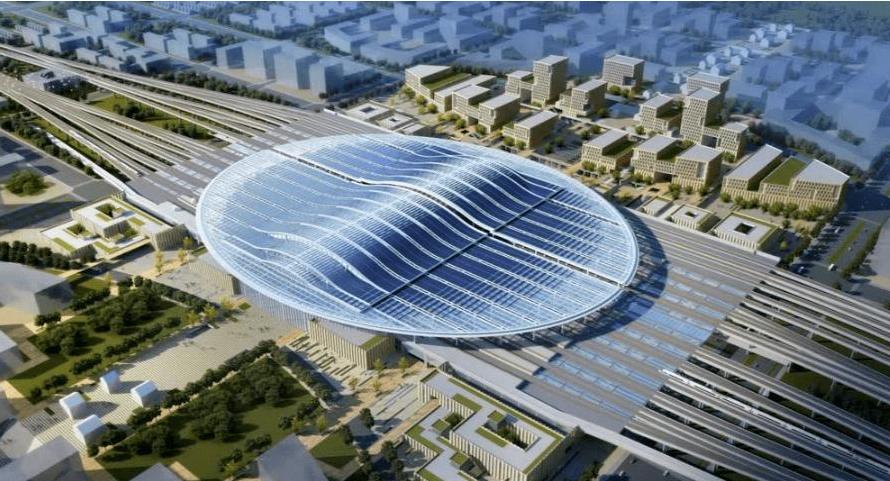 The first major transportation infrastructure to start construction in Xiong'an New District of Beijing-Xiong Intercity Railway.
The total construction area of the station building is 452,900 square meters, and the area of the station building is about 138,000 square meters. The main body has 5 floors, including 3 floors above ground, 2 floors underground, and partial mezzanine. It is the largest newly-built station of the Beijing-Xiong Intercity Railway.
The entire project is based on "world vision, international standards, Chinese characteristics, and high-point positioning" to create a landmark project for the innovative development of China's railway passenger station with "unblocked integration, green and warm, economic art, intelligent and convenient".
Xiong'an New District sits on Baiyangdian Lake, the largest freshwater lake in the inland of North China. Inspired by water culture, the overall design concept of the station building highlights the aesthetics of space with a huge oval roof, the shape is like a drop of dew on a lotus leaf, and the blue gradient implies "The source of the clear spring, the wind blows ripples", 192 concrete flowering columns show a unique rhythm.
Although it is located in the arid North China Plain, the water resources are abundant, with an average annual precipitation of about 492.3 mm; the large amount of precipitation makes the overall aesthetic design of the station's building design considerations, and a strong roof material drainage technology is required. Support the plan. This time, Xiong'an used the polycarbonate hollow flying wing panel independently developed by Pincheng Holdings Group on the lighting materials of the roof and platform canopy.
The polycarbonate sheet produced by SINHAI company was put into use to the magnificent design Xiong'an station
The use of polycarbonate PC products (multi-layer structure type and locking type hollow sheet) on the housing of high-speed railway stations has been relatively mature in domestic use. Pincheng Holding Group's innovative polycarbonate hollow structure upgrade product-flying wing panel, is a high-tech energy-saving and environmentally friendly roof lighting material. In addition to the original high strength, light weight, and In addition to the function of good lighting, it can also ensure air tightness and resistance to wind and load.
The biggest function and value of the flying wing panel is that the flying wing structure makes the station building surface have excellent anti-leakage and waterproof effects. At the same time, the fixed side installation method effectively avoids the hidden dangers caused by the linear expansion of the rectangular material after installation. It meets the design requirements of the station building.
Company Name: Baoding Xinhai Plastic Sheet Co.,ltd
Contact Person: Sale Manager
Email: admin@cnxhpcsheet.com
Phone: +8617713273609
Country: China
Website: https://www.xhplasticsheet.com/
---
Post time: Sep-09-2021