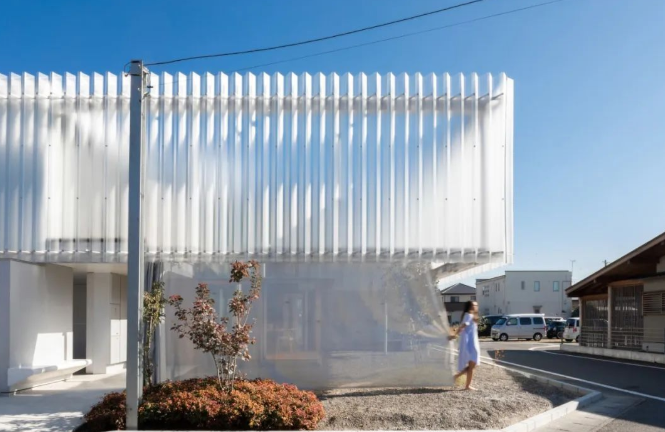 Whether blending in or protruding, embodying transparency or solidity, expressing roughness or softness, façades are the medium through which we engage with architecture. It tells a story and sets the tone for the rest of the interior. But in addition to defining a purely visual experience, the building's façade must also be functional, durable, and capable of properly coordinating natural lighting and ventilation needs. After all, as the interface with the outside world, it is responsible for reducing sound and providing protection in different climates such as wind, rain, heat and humidity. Therefore, when designing a facade, it is important to consider the balance between performance and aesthetics. Of course, many materials meet these criteria. But when it comes to creating a comfortable, light-filled ambience while ensuring resistance, ease of installation and versatility, the performance of translucent polycarbonate sheets seems unmatched.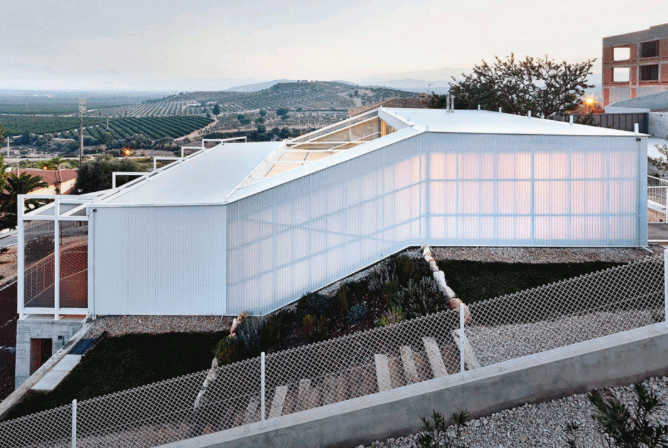 Typically polycarbonate creates a diffused soft light indoors during the day and a striking exterior glow at night, it is known for its light interplay, blurry transparency and abstract shapes, all of which create a unique sensory experience . However, through its wide range of applications (different forms, colours, shapes and sizes), the material has also proven to be efficient and versatile, striking and expressive. So it's no wonder that this man-made polymer, once only approved for use in greenhouses, is now a popular choice for façades and roofs in all types of modern buildings. With this in mind, we will delve into the properties, installation methods and design flexibility of translucent polycarbonate façades
This translucent thermoplastic is 250 times stronger than glass
Polycarbonate is a tough, amorphous and durable thermoplastic polymer. Like most plastics, it is made by distilling hydrocarbon fuels into "molecules" that are subsequently combined with other catalysts to produce plastics through polymerization or polycondensation. Once the material is manufactured, it can be shaped by different processes, such as injection molding or extrusion. 
In its original form, polycarbonate is completely transparent, similar to traditional glass products. But, unlike glass, it also offers varying degrees of translucency -- offering the best light transmission -- and is a lighter, more flexible, and more corrosion-resistant alternative. In fact, the strength of this material makes it resistant to temperature, UV light, shock, and more, meeting a wide range of performance requirements. Additionally, it is fully recyclable, flame retardant, cost effective and insulating.
Fast, simple and efficient installation
Another advantage of polycarbonate is that they are easy to install on exterior walls. At half the weight of traditional glass sheet, transporting and handling this material is a fairly straightforward and simple process. Before installation, however, it is crucial to choose the right type of sheet: either double wall polycarbonate sheet consisting of two layers, or multiwall polycarbonate sheet consisting of three or more layers. Despite having the same properties, they offer different levels of insulation; the thicker the panel, the stronger the insulation.
Company Name: Baoding Xinhai Plastic Sheet Co.,ltd
Contact Person: Sale Manager
Email: admin@cnxhpcsheet.com
Phone: +8617713273609
Country: China
Website: https://www.xhplasticsheet.com/
---
Post time: Jun-18-2022