SINHAI double wall transparent greenhouse hollow polycarbonate roof sheet
The hollow structure of the double wall polycarbonate sheet greatly saves costs.
Features of the product:(1) Light transmittance: Depending on the color, the light transmittance is 10%-98%;(2) Flame retardant: According to the national GB8624-97 test, the flame retardancy is classified as flame-retardant B1 level, self-extinguishing away from the fire, no droplets, no poisonous gas;(3) Impact resistance: The impact resistance is (10-27) times that of plexiglass. Exposure to the sun will not cause yellowing, fogging, poor light transmission and fragmentation;(4) Anti-uv and anti-aging: There is a 50-micron anti-ultraviolet co-extrusion layer (UV layer) on the surface, which can be guaranteed for ten years, which can prevent the resin from fatigue and yellowing caused by sunlight and ultraviolet rays. The surface co-extrusion layer has chemical bonds to absorb ultraviolet light. It is converted into visible light and heat, which has a good stabilizing effect on plant photosynthesis (very suitable for protecting valuable works of art and exhibits from UV damage);(5) Sound insulation: good sound insulation effect, which can be reduced by 10-20 decibels; internationally, it is the preferred material for highway noise barriers;(6) Temperature resistance: it will not cause quality deterioration such as deformation in the temperature range of -40 degrees Celsius to +120 degrees Celsius;(7) Portability: light weight, easy to handle, drill holes, cut and install not easy to break, and can be directly cold-formed, simple construction and good processing.

Double wall polycarbonate sheet
Product Name

Double wall polycarbonate sheet

Material

100% virgin bayer/sabic polycarbonate

Thickness

2.8mm-12mm,customized

Color

Clear, Blue, Lake Blue,Green, Bronze, Opal or Customized

Width

1220, 1800, 2100mm




or customized

Length

No limit,customized

Warranty

10-Year

Technology

Co-extrusion

Surface

UV protection is added for free

Price term

EXW/FOB/C&F/CIF
Thickness(mm)

Weight

(kg/m²)

Width

(mm)

U Value

(w/m²k)

Light transmission

(%)clear

Min bending radiums

(mm)

Min span

(mm)

4

0.95

 

 

1220/2100

 

3.96

78

700

1500

6

1.3

3.56

77

1050

1800

8

1.5

3.26

76

1400

2000

10

1.7

3.02

73

1750

2700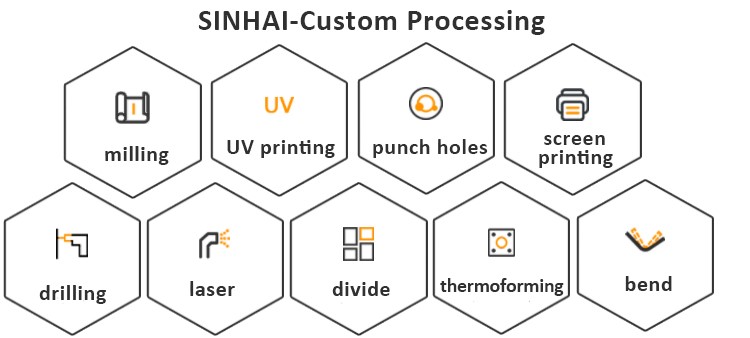 | | | | | | | | |
| --- | --- | --- | --- | --- | --- | --- | --- |
|   | U.M. | PC | PMMA | PVC | PET | GRP | GLASS |
| Density | g/cm³ | 1.20 | 1.19 | 1.38 | 1.33 | 1.42 | 2.50 |
| Strength | K.J/m² | 70 | 2 | 4 | 3 | 1.2 | - |
| Modulus of elasticity | N/mm² | 2300 | 3200 | 3200 | 2450 | 6000 | 70000 |
| Linear thermal expansion | 1/℃ | 6.5×10-5 | 7.5×10-5 | 6.7×10-5 | 5.0×10-5 | 3.2×10-5 | 0.9×10-5 |
| Thermal conductivity | W/m.k | 0.20 | 0.19 | 0.13 | 0.24 | 0.15 | 1.3 |
| Max.service temperature | ℃ | 120 | 90 | 60 | 80 | 140 | 240 |
| UV transparency | % | 4 | 40 | nd | nd | 19 | 80 |
| Fire performance | - | very good | poor | good | good | poor | fireproof |
| Resistance to weathering | - | good | very good | poor | fair | poor | excellent |
| Chemical compatibility | - | fair | fair | good | good | good | Very good |
Skylight,curtain wall,greenhouse,small flower room,awnings,canopy,roofing cover,swimming pool cover,table wall,Public area separation wall
---