SINHAI co-extrusion polycarbonate plastic H profiles
Product Details
PC sheet profiles,polycarbonate sheet connector h & u profile,pc sheet accessories,polycarbonate sheet profiles,polycarbonate sheet accessories.
Connect the length side of the polycarbonate sheets together. When installing the polycarbonate sheet, the polycarbonate material accessories can be consistent with the performance data of the sheet, and the heat expansion and contraction can be achieved together. The sheet will not be different from the accessories due to the difference in the morning. The sheet is leaking, or is too tight to cause a break.
Item

Thickness (mm)

Length(m)

Weight (g/pcs)

 

 

 

PC H profiles

6

6

540

8

6

720

10

6

780

12

6

960

16

6

1110

 

PC U profiles

6-8

6

240

10

6

280

12

6

300

14

6

360

16

6

390

20

6

780

PC Snap F Profile

4-10

6

300
PC H Profile
Thickness Available:4mm,6mm,8mm,10mm,12mm,14mm,16mm
Standard Length:6m
Popular Color:clear,blue,green,brown
Usage:used to join two sheets of polycarbonate side by side
Product Feature
1)Light weight,Sustained durability
2) Keep consistent with the PC sheet in physical performance,As the outdoor changes, it expands and shrinks together with the sheet to prevent the sheet from breaking
3) Best waterproof performance
4) Good weather resistance and UV protection
5) Simply installed
6) 10-year guarantee
7)Innovative value-added design support
8)Connecting U type plastic profiles are able to connect sheets for covering of large areas on structual building. It won't effect the incoming light at the connecting points. The profiles can be bent at the minimal radius permitted by the sheet
Application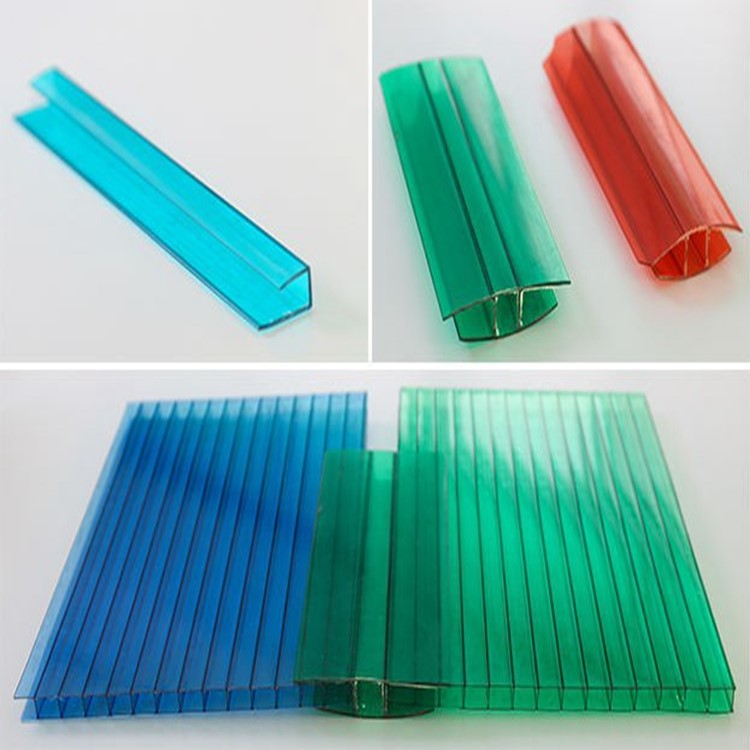 About US
Baoding Xinhai Plastic Sheet Co., Ltd was founded in 2001 and is a manufacturer of polycarbonate hollow solid corrugated sheet and accessories with well-equipped production lines and strong technical force.Customizable, complete categories, advanced equipment imported from Germany, Japan, Italy and other countries, 13 production lines, annual output of 14,000 tons, UV co-extrusion technology, short delivery time. Imported brand new materials, without adding a piece of waste, the product quality is higher. Ten-year quality assurance, passed ISO9001, SGS, CE inspection. Set up an engineering department to provide free professional design and installation guidance. The products have been sold to the global market, and a wide range of praise is the guarantee of your benefits.
Our Advantages
 1. Specialize in manufacturing PC sheets and profiles for over 20 years
2. 13 Imported Advanced Production Lines
 3. Bayer/Sabic virgin material
4.14600tons annual output
 5. Verified by IS09001: 2015,SGS,CE,MA product test
 6. Competitive price and good quality
 7. OEM acceptable
 8. Free add UV Protection coated
---