Founded in 2001, SINHAI has been committed to the production of polycarbonate sheets and sheet mounting accessories for 20 years. It has been sold to more than 100 foreign countries by large domestic factories in the north and has been well received at home and abroad.Unanimously praised by customers.

So how does SINHAI control the quality to achieve the unanimous praise of so many customers? Next, I will introduce you how SINHAI controls quality.
SINHAI company has a professional technical team, from ingredients, production, to packaging and transportation, all have strict quality control.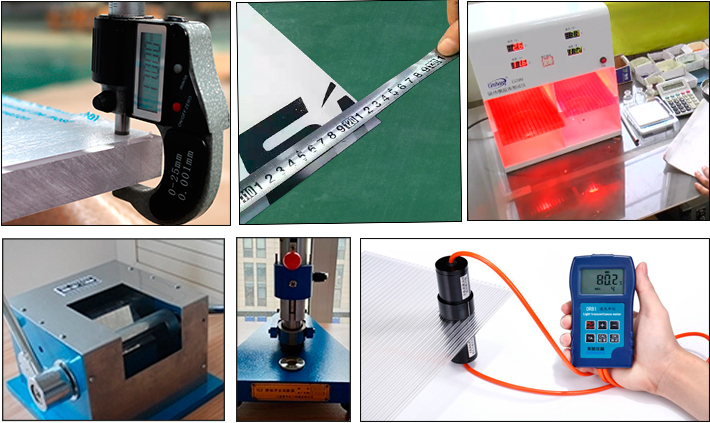 First of all, SINHAI's purchasing department strictly purchases imported raw materials.The virgin bayer makrolon/sabic lexan materials also used in the production of sheets are never mixed with a piece of waste.
Then in the production process, technicians monitor the temperature of the machine 24 hours a day, so that the produced plates will not have color difference problems.
The technician measures the board every hour. Tolerance is within a reasonable range:±3%.
Strictly control sheet thickness measurement.Length and width according to customer requirements.
There are professional product reports for product characteristics, and each time the production is completed, the samples will be checked by technicians to see if the various performances meet the standards.
The protective film is smooth, and the burrs and debris are cleaned. There are absolutely no scratches on the surface of the sheet.


Because of the technical monitoring of SINHAI's production process, the polycarbonate sheet produced by SINHAI has a long enough life span without quality problems, and is highly praised by customers at home and abroad and repurchased.
Welcome to your inquiry about polycarbonate sheets, we are online 24 hours a day to answer all your questions.
Email:info@cnxhpcsheet.com
Address:Lotus area,Baoding City,Hebei Province,China
---
Post time: Jun-05-2021