SINHAI Cheap uv clear four-layer multiwall hollow pc polycarbonate sheet

The center of the rectangular four-layer hollow polycarbonate sheet is a multiwall rectangular layout, which allows the sheet to have higher impact strength and better sound insulation. Compared with hollow panels of the same thickness, SINHAI four-layer rectangular layout solar panels have a better thermal insulation function, and are internationally used for highway sound insulation, railway stations, stadiums, shopping malls and other lighting roof projects.
The thickness of the double wall polycarbonate sheet is generally between 2.8mm-12mm, which is attributed to the general-purpose sunlight board. The thickness of the four wall polycarbonate sheet generally 8mm-20mm.
The same is that the four-layer polycarbonate panels and the double-layer polycarbonate plate belong to the hollow polycarbonate sheet, so the basic functions are the same, but there are many differences. The first thing we found must be the thickness. Obviously, the thickness of the multiwall polycarbonate sheet is relatively thick, which can make the panel have better impact resistance, sound insulation and heat preservation effects. Therefore, the four-layer polycarbonate sheet is used in some public facilities construction Used more.
The quality of the four-layer sheet depends on the materials used. The SINHAI four-layer pc sheet uses imported raw materials, monitors the production process and various data 24 hours a day, and adds UV protective coating for free. Therefore, the quality of the SINHAI four-layer pc sheet is highly praised by customers. .
Product

Four wall polycarbonate sheet

Material

100% virgin bayer/sabic polycarbonate resin

Thickness

8mm-20mm

Color

Clear, Blue, Lake Blue,Green, Bronze, Opal or Customized

Width

1220, 1800, 2100mm




or customized

Length

2400, 5800, 6000, 11800, 12000mm




or customized

Warranty

10-Year

Surface

UV protection is added for free

Technology

Co-extrusion

Free sample

YES

Price term

EXW/FOB/C&F/CIF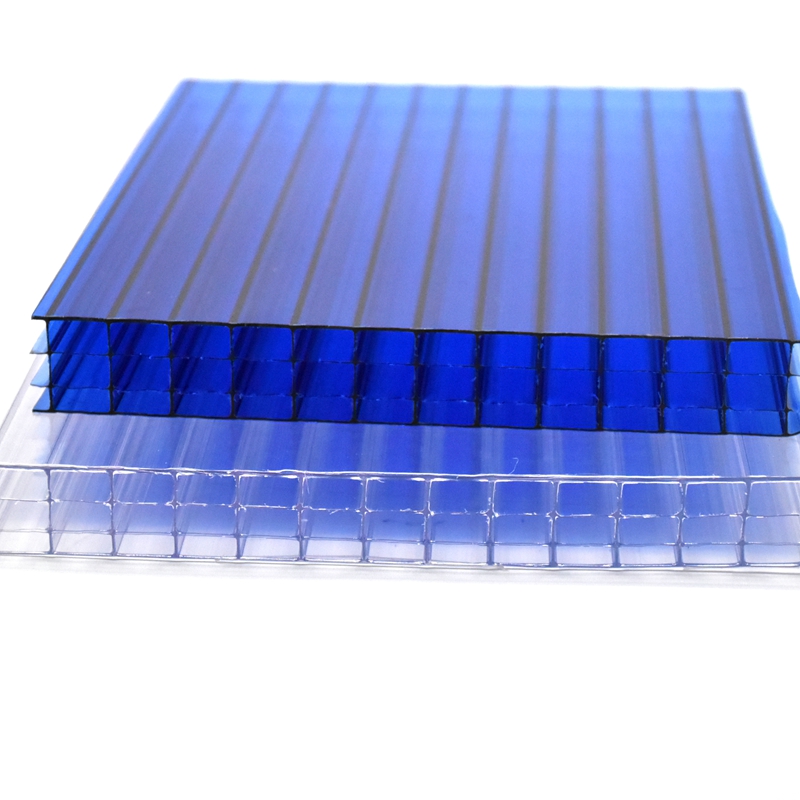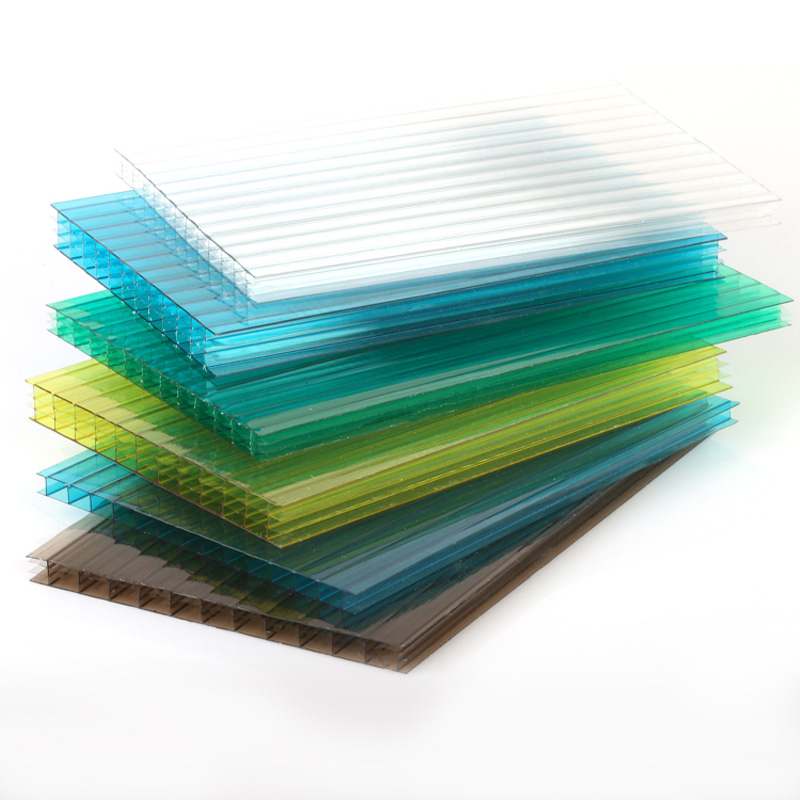 | | | | | | | | |
| --- | --- | --- | --- | --- | --- | --- | --- |
|   | U.M. | PC | PMMA | PVC | PET | GRP | GLASS |
| Density | g/cm³ | 1.20 | 1.19 | 1.38 | 1.33 | 1.42 | 2.50 |
| Strength | K.J/m² | 70 | 2 | 4 | 3 | 1.2 | - |
| Modulus of elasticity | N/mm² | 2300 | 3200 | 3200 | 2450 | 6000 | 70000 |
| Linear thermal expansion | 1/℃ | 6.5×10-5 | 7.5×10-5 | 6.7×10-5 | 5.0×10-5 | 3.2×10-5 | 0.9×10-5 |
| Thermal conductivity | W/m.k | 0.20 | 0.19 | 0.13 | 0.24 | 0.15 | 1.3 |
| Max.service temperature | ℃ | 120 | 90 | 60 | 80 | 140 | 240 |
| UV transparency | % | 4 | 40 | nd | nd | 19 | 80 |
| Fire performance | - | very good | poor | good | good | poor | fireproof |
| Resistance to weathering | - | good | very good | poor | fair | poor | excellent |
| Chemical compatibility | - | fair | fair | good | good | good | Very good |
| | | | | | | | |
| --- | --- | --- | --- | --- | --- | --- | --- |
|   | U.M. | PC | PMMA | PVC | PET | GRP | GLASS |
| Density | g/cm³ | 1.20 | 1.19 | 1.38 | 1.33 | 1.42 | 2.50 |
| Strength | K.J/m² | 70 | 2 | 4 | 3 | 1.2 | - |
| Modulus of elasticity | N/mm² | 2300 | 3200 | 3200 | 2450 | 6000 | 70000 |
| Linear thermal expansion | 1/℃ | 6.5×10-5 | 7.5×10-5 | 6.7×10-5 | 5.0×10-5 | 3.2×10-5 | 0.9×10-5 |
| Thermal conductivity | W/m.k | 0.20 | 0.19 | 0.13 | 0.24 | 0.15 | 1.3 |
| Max.service temperature | ℃ | 120 | 90 | 60 | 80 | 140 | 240 |
| UV transparency | % | 4 | 40 | nd | nd | 19 | 80 |
| Fire performance | - | very good | poor | good | good | poor | fireproof |
| Resistance to weathering | - | good | very good | poor | fair | poor | excellent |
| Chemical compatibility | - | fair | fair | good | good | good | Very good |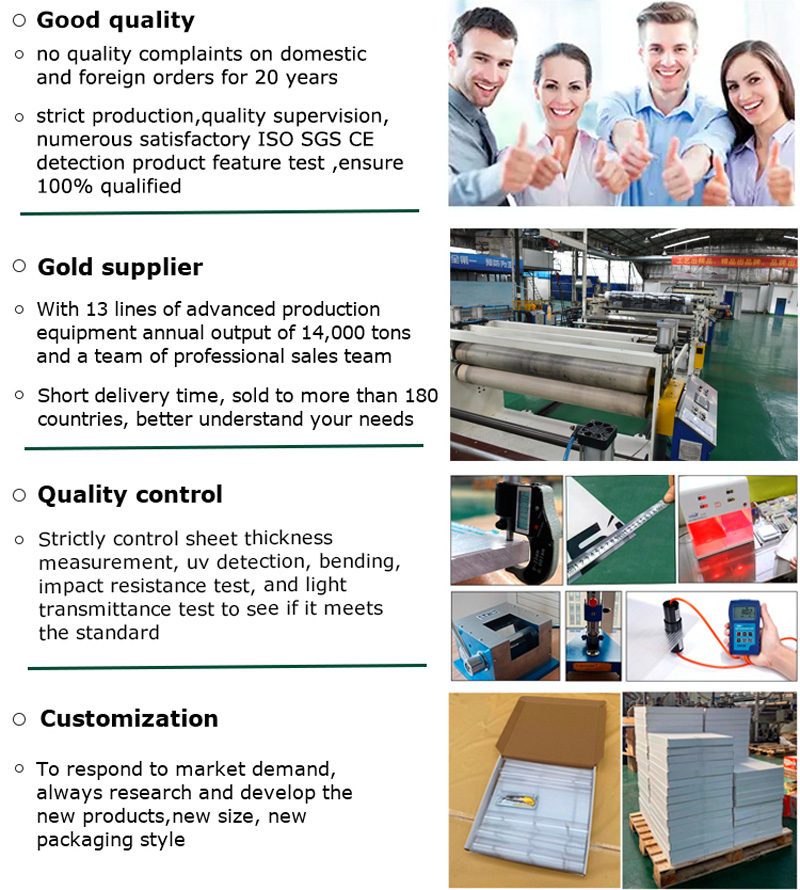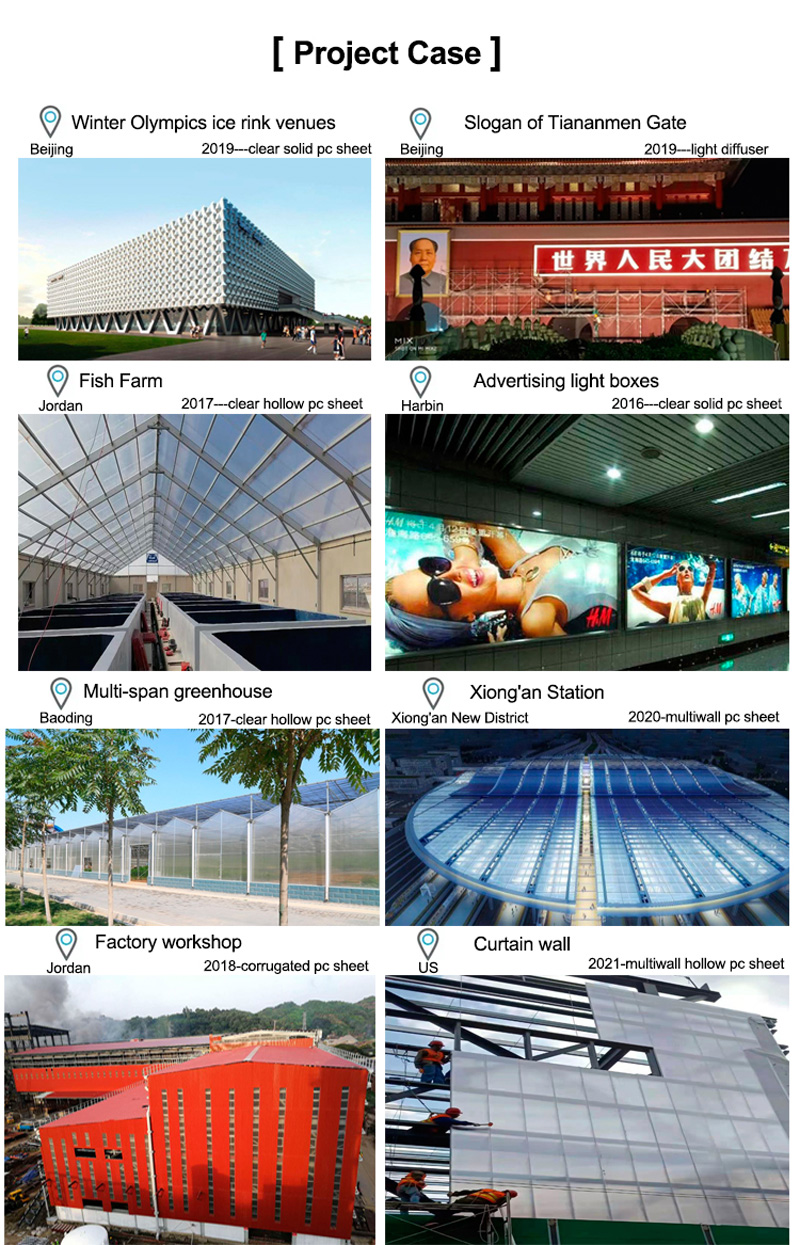 ---