SINHAI solid plastic clear flexible polycarbonate sheet roll 0.8mm 1mm
Polycarbonate sheet is abbreviated as PC sheet, which is made of polycarbonate polymer using advanced formula and the latest UV co-extrusion technology.
Polycarbonate sheet is a new type of high-strength, light-transmitting building material, and it is the best building material to replace glass and plexiglass. Compared with laminated glass, tempered glass, and insulating glass, PC sheet has excellent performance such as light weight, weather resistance, super strength, flame retardant, and sound insulation, and has become a popular building decoration material.
Due to the large area of the sheet, high costs will be incurred for transportation to foreign countries, but the polycarbonate sheet has good flexibility. Therefore, under 4mm and 4mm, polycarbonate sheets can be packaged into rolls, and will not be broken, which is convenient for transportation and greatly saves costs.
| | |
| --- | --- |
| Product Name | Polycarbonate sheet rolls |
| Material | 100% virgin bayer/sabic polycarbonate resin |
| Thickness | 0.9mm-18mm |
| Color | Clear, Blue, Lake Blue,Green, Bronze, Opal or Customized |
| Width | 1220mm-2100mm |
| Length | 2400mm-60000mm |
| Warranty | 10-Year |
| Technology | Co-extrusion |
| Certificate | ISO9001,SGS,CE |
| Feature | Sound insulation,Fire resistant,Impact resistant |
| Sample | Free samples can be send to you for test |
| Package | 0.9mm-4mm can be packed into rolls |
| Remarks | Special specifications,colors can be customized |

| | | | | | | | |
| --- | --- | --- | --- | --- | --- | --- | --- |
|   | U.M. | PC | PMMA | PVC | PET | GRP | GLASS |
| Density | g/cm³ | 1.20 | 1.19 | 1.38 | 1.33 | 1.42 | 2.50 |
| Strength | K.J/m² | 70 | 2 | 4 | 3 | 1.2 | - |
| Modulus of elasticity | N/mm² | 2300 | 3200 | 3200 | 2450 | 6000 | 70000 |
| Linear thermal expansion | 1/℃ | 6.5×10-5 | 7.5×10-5 | 6.7×10-5 | 5.0×10-5 | 3.2×10-5 | 0.9×10-5 |
| Thermal conductivity | W/m.k | 0.20 | 0.19 | 0.13 | 0.24 | 0.15 | 1.3 |
| Max.service temperature | ℃ | 120 | 90 | 60 | 80 | 140 | 240 |
| UV transparency | % | 4 | 40 | nd | nd | 19 | 80 |
| Fire performance | - | very good | poor | good | good | poor | fireproof |
| Resistance to weathering | - | good | very good | poor | fair | poor | excellent |
| Chemical compatibility | - | fair | fair | good | good | good | Very good |
Solid polycarbonate sheet is used in residential building lighting,canopy, carport,sunroom,stadium roof,swimming pool roof, transportation infrastructure, industrial building lighting,shopping mall aisles,hotel atriums,etc., greenhouses, soundproof walls,advertising light boxes,signs,security,Interior decoration,etc. 10-year warranty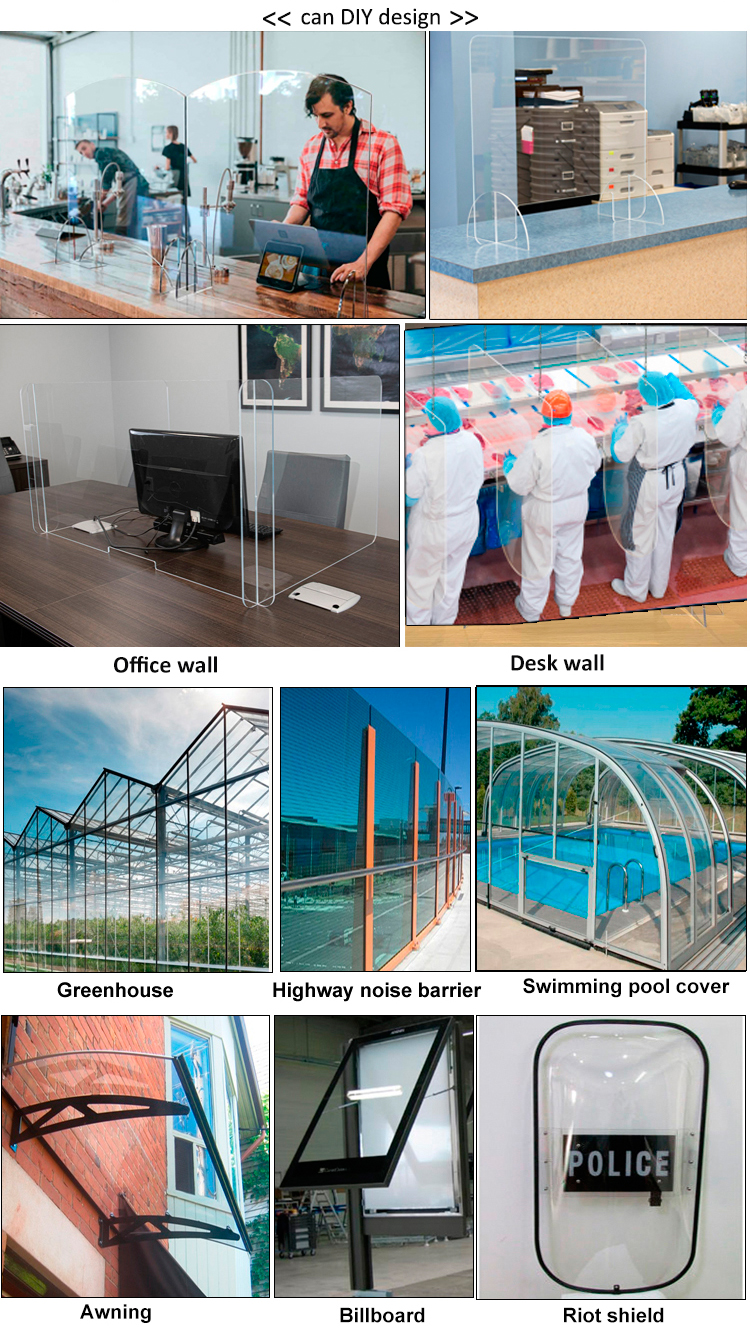 ---